Dr. T. Robert Bashara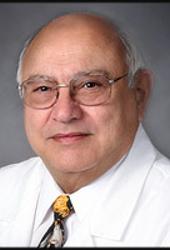 Dr. Bashara received his Doctor of Veterinary Medicine degree from Iowa State University in 1963. After two years in the U.S. Army Veterinary Corps, he opened the Mapleview Animal Clinic in 1965. The Candlewood Animal Hospital opened in 1985. Dr. Bashara is an affiliate member of the American Animal Hospital Association, a past officer of the Greater Omaha Veterinary Association, a member of the American Veterinary Medical Association and the Nebraska Academy of Veterinary Medicine. He is the recipient of the 2018 American Veterinary Medical Association Animal Welfare Award and the 2018 Iowa State College of Veterinary Medicine Stange Award for Meritorious Service in Veterinary Medicine.
Practicing in Omaha for more than 40 years has given Dr. Bashara a unique perspective. He has watched the city grow westward, and the Gentle Doctor Animal Hospitals grow alongside it. He has treated generations of Omaha families' pets, and is proud to have continued a tradition of quality care, while incorporating leading-edge testing, equipment and procedures to the practice.
Dr. Bashara has passed his compassion for animals on to his son, Dr. Peter Bashara who followed him into the practice of veterinary medicine.