Meet Mark Van Kekerix and Bob Tucker! We love seeing these guys and their dogs and cat!
From Dr. Miranda Thomassen...
Duke, Harley and Oz Van Kekerix are quite the family! With Mark and Bob caring for them, any senior pet would love to be a part of this family…really any age of pet!
Duke and Harley both are on daily therapies for osteoarthritis, and Oz puts up with twice daily insulin injections to control his diabetes mellitus. Mark and Bob are always inquiring about the best options to help all of their senior pets lead the most comfortable lives possible. I truly look forward to caring for this family for many years!
From Mark as told to Dr. Shawn Finch...
Tell us about your family – humans and pets!
Bob and I have been together for nine years and have been married for five. I have an adult son and a six-year-old grandson, both of whom live in Lincoln. Collectively Bob and I have lots of siblings, nieces and nephews, both locally and around the country. Our families have always loved animals – in fact, one of my sisters is a veterinarian in Wisconsin!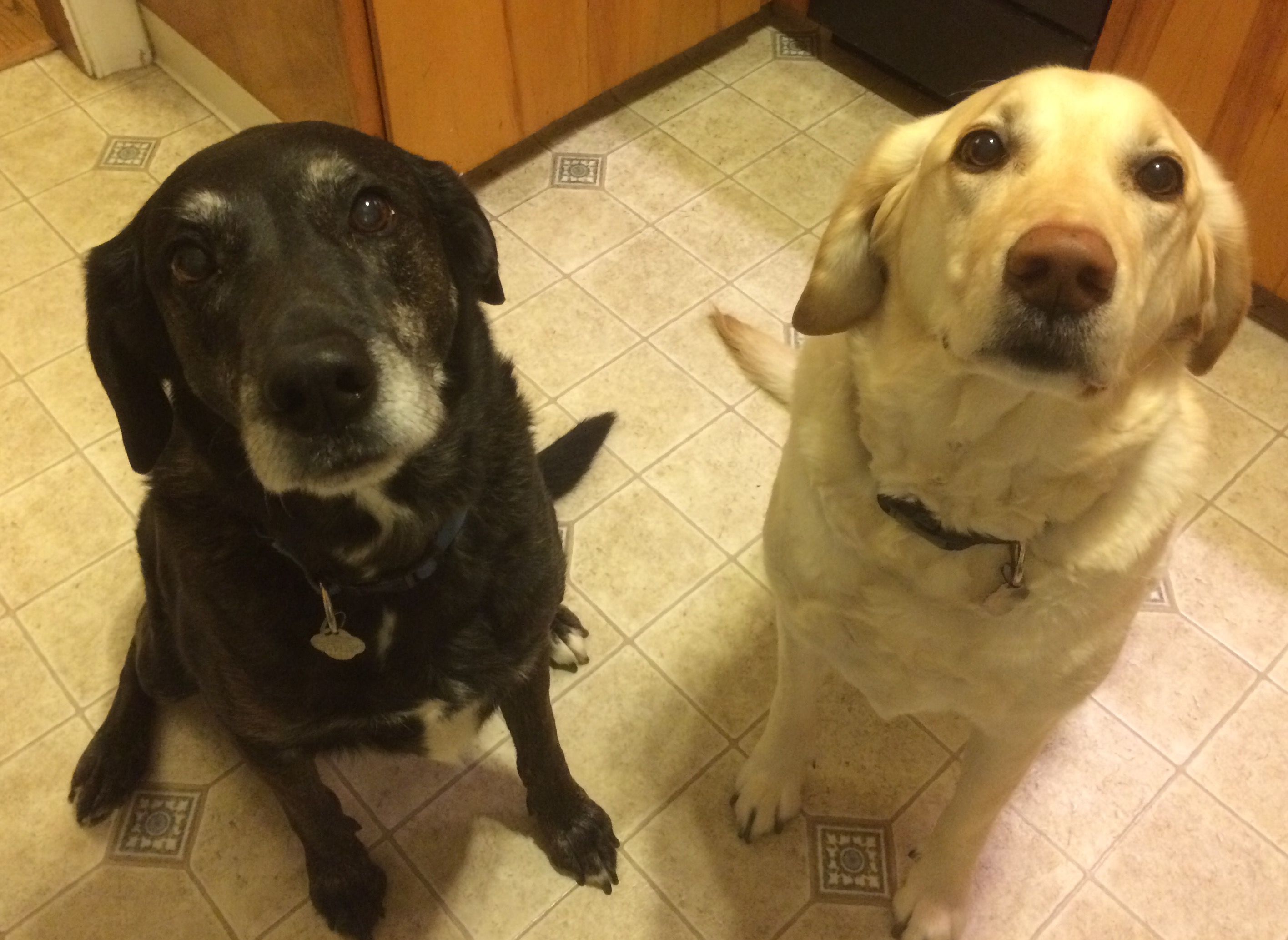 Duke (left) and Harley (right)
We currently have two dogs and a cat. Duke, our black Lab, was Bob's from before we got together; Duke is now almost eleven years old. Harley, our yellow Lab we adopted together; Harley is now almost nine. Oz, our cat, was mine from before Bob and I met; Oz is now eighteen years old! All three were adopted through the local humane society.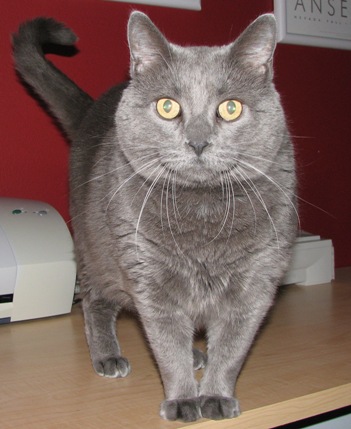 The Great and Powerful Oz
What do the people in the family do for a living and for fun?
Bob is a teacher (history and psychology) at Omaha Central High School, loves to play tennis and golf, and is an excellent cook. I'm a computer programmer for a software company that specializes in banking systems, and my hobby is singing in a community chorus (the River City Mixed Chorus). We also love to travel, and are working on remodeling a 90-year-old house in the Dundee area of Omaha.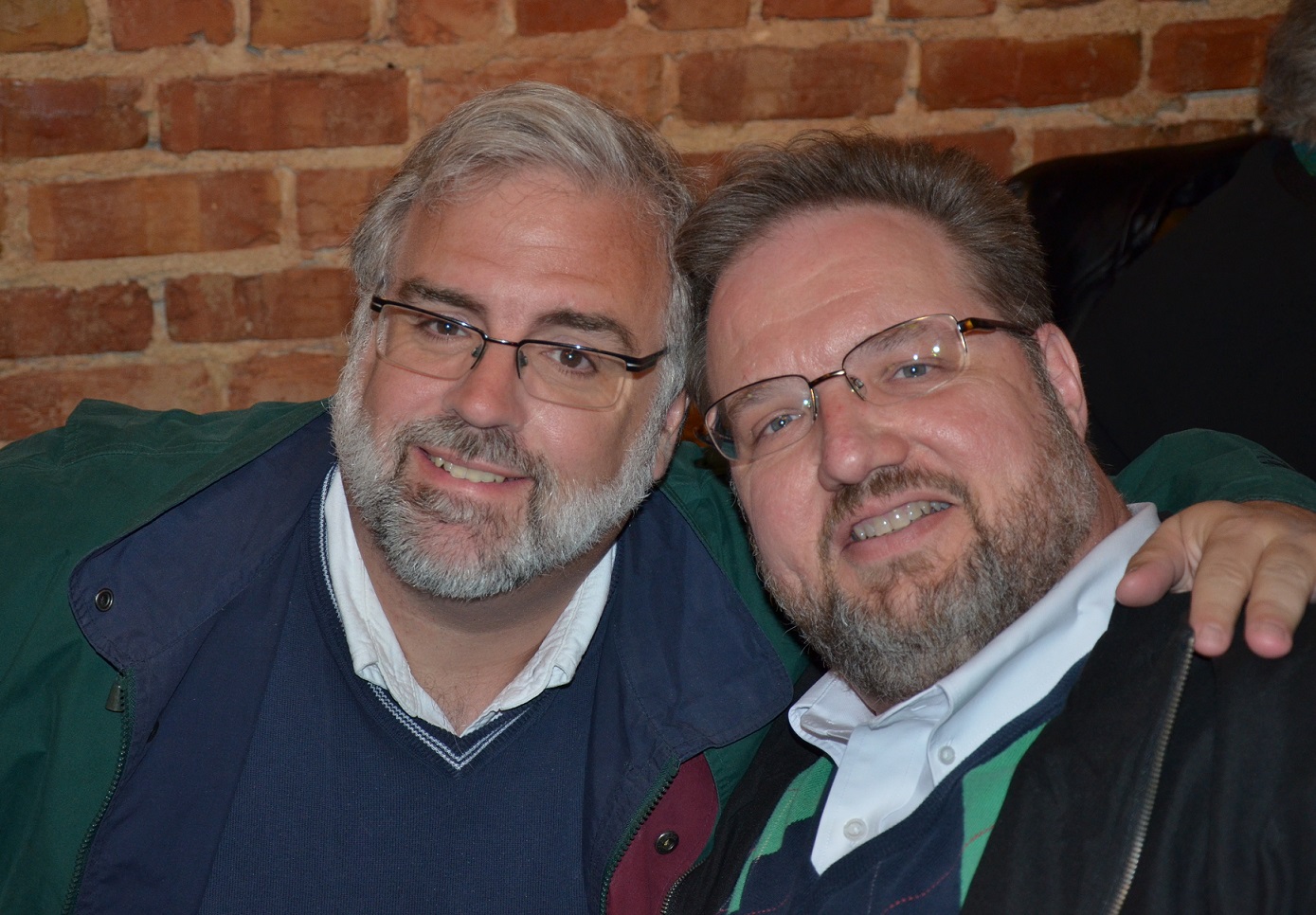 Bob (left) and Mark (right)
Tell us more about the pets you have now and the pets you have had in the past.
Sometimes it's a real challenge having three "senior" animals in the house! We're lucky they are all in relatively good health.
Duke is the most mellow dog we've ever known, always friendly in a calm, relaxed way. Duke is a very typical Lab – he loves taking walks, loves to swim and be in the water, and will play "fetch the tennis ball" with you until he's so tired he can't walk!
Harley is more excitable, and loves to be the center of attention – he believes there's no such thing as too much petting and attention!
Oz is the only cat I've ever known that will not even try to get outside – he's perfectly content to look out the window instead!
Tell us about when you first met the Gentle Doctor team or a story about the team others may not know.
I first started seeing the Gentle Doctor team for Oz when I moved to Omaha seventeen years ago (out at the 153rd and Maple location). When Bob and I combined our households, we switched to the 89th and Grant location because it was closer. Because I have a sister who is a veterinarian (in Wisconsin) we naturally ask her about our animals; and she has always told us that we are getting great care from the Gentle Doctor team!
What have you learned about pets that you did not know as a kid or before you had your own pets?
We've learned that animals are as individual as people are – each one has their own unique personality, and you should give them the freedom to express that personality. And that pets really do crave the love and attention they get in a stable home – behavior issues are almost always the result of an animal's anxiety over a change in their situation. The best solution for behavior problems is usually a structured, predictable daily routine – and it makes for a much happier animal!
Do you have wisdom about any medical conditions that you could share with someone who is perhaps just starting to walk their pet through a similar situation?
Older pets and pets with chronic conditions need you to watch them a little more carefully for changes in behavior and to plan ahead for things that are outside the normal daily routine.
Both of our dogs have joint problems (hip dysplasia, which Labs are apparently prone to), so if we're heading to the dog park, for example, we try to give them an anti-inflammatory medication before going, and watch them carefully for any signs of joint pain for a couple of hours afterward.
Our cat, Oz, is diabetic and also has kidney problems, so we have to try to be aware of how much he drinks and urinates (so we can notice any changes). Just being "in tune" with your pets that have chronic conditions will help you catch changes and problems before they become serious.
Do you have a favorite breed or type of pet?
We're partial to Labrador retrievers, of course – we have two of them!
Is there a shelter or rescue group or other pet related group that is dear to you that you would like us to help spread the word about?
There isn't one specific pet-related organization that we are particular about; we appreciate many organizations that rescue and rehabilitate household pets and work against cruelty to animals.
Are there non-pet related causes you would like us to help spread the word about?
Our favorite nonprofits to give to are the River City Mixed Chorus (Omaha's LGBT community chorus), PFLAG Omaha (an LGBT support and advocacy organization), and the Omaha Central High School Foundation.
Is there anything else we should include in your story?
I can't think of anything else!