Meet Barb and Gene Ericson! We love to see this family and their wonderful dogs, Tuck and Ollie!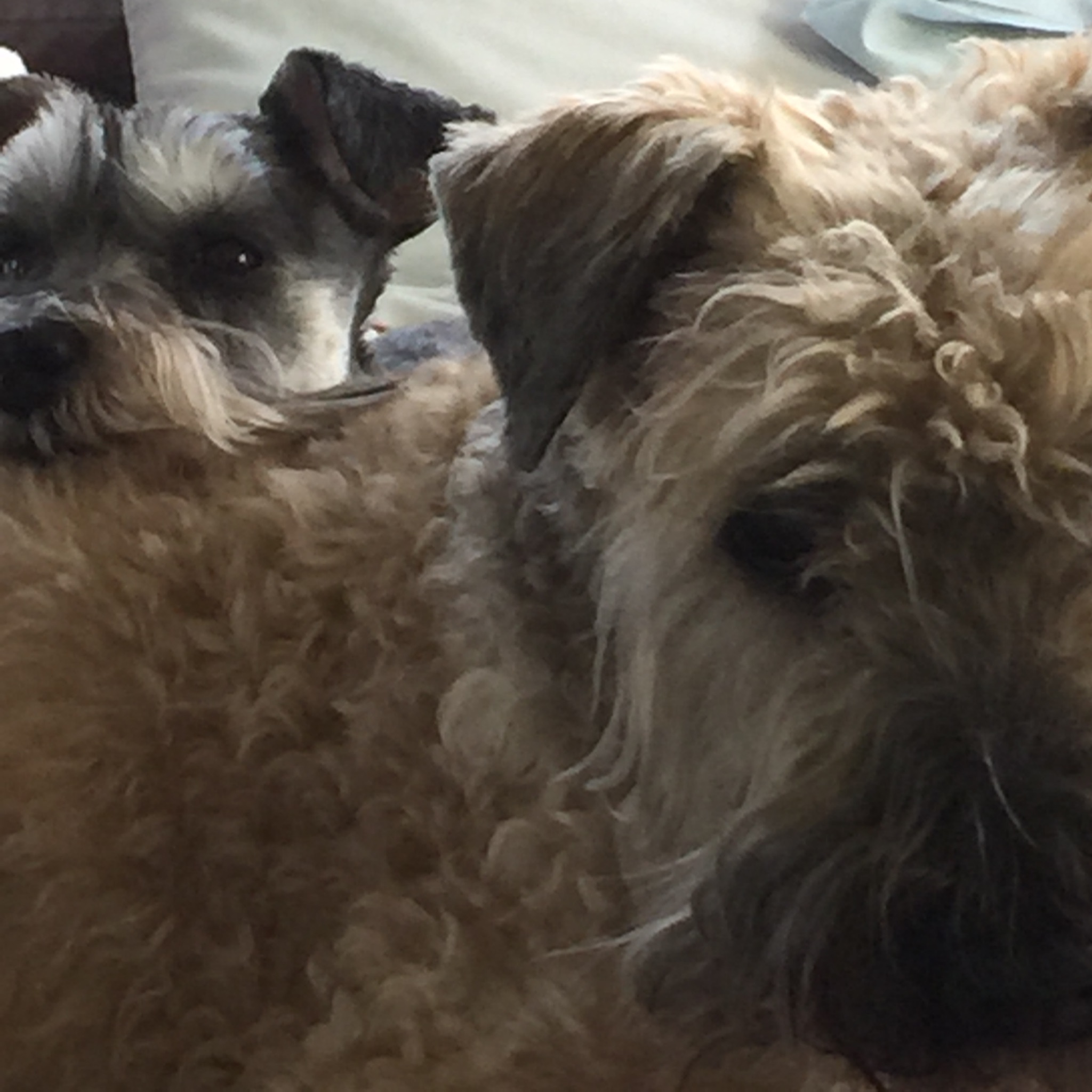 Ollie and Tuck
From Barb, as told to Dr. Shawn Finch...
Smiley, a three-legged, crooked-grinned black and white female puppy was left at our farm in a grove of trees by a band of gypsies who had passed through our area. We like to think that Smiley was left as a thank you to our family from the gypsy family for the food and supplies given to them. She was a part of our "pack" even before my brothers and I were born. Smiley blessed us with four chubby-bellied little fur-ball puppies which occupied one whole summer of our young lives! She was my introduction to the wonderful world of dogdom!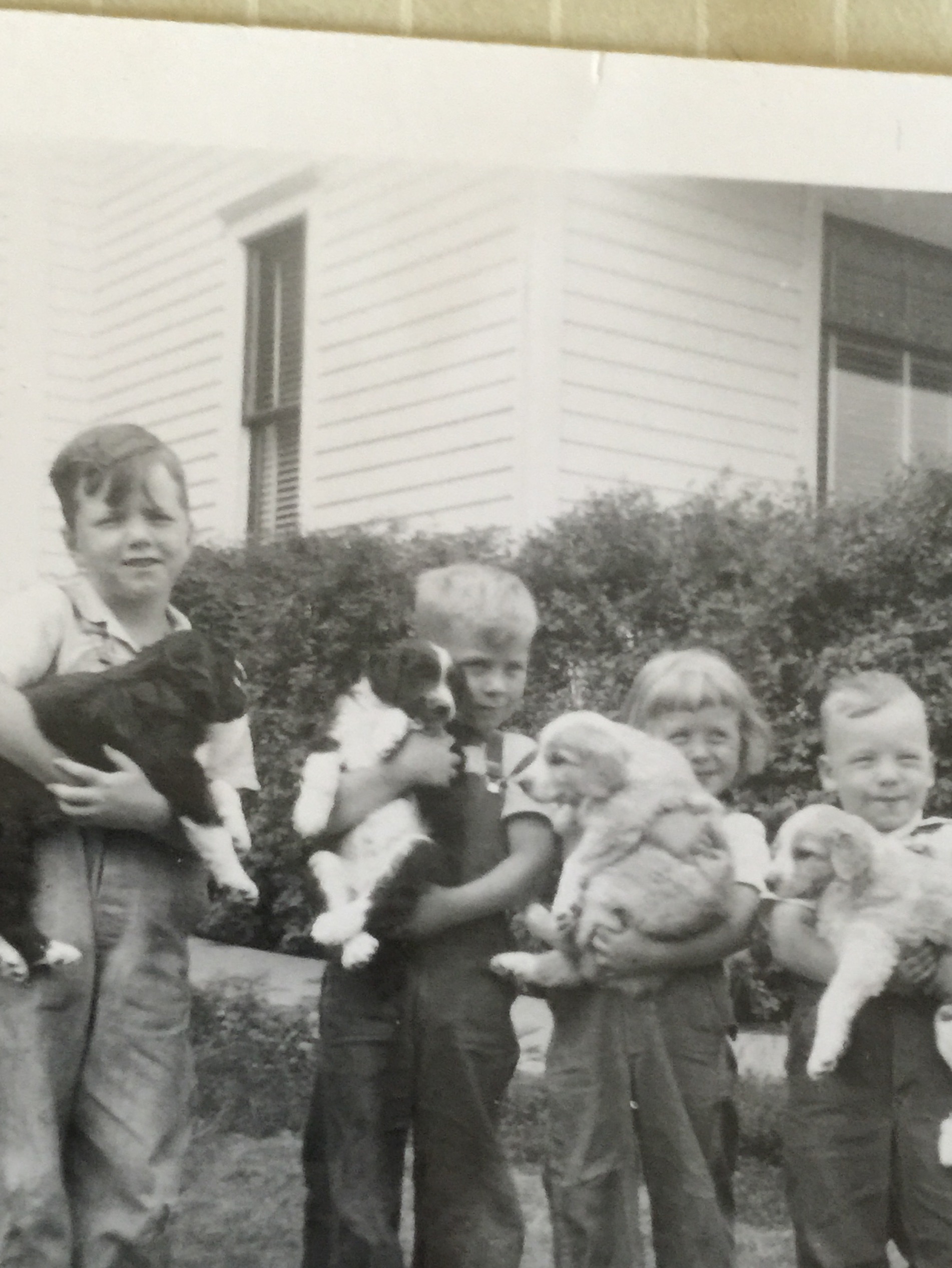 After Smiley's death, my father purchased a rough-coated collie puppy from a breeder in Minnesota. This little ball of fluff was delivered by rail in a half-bushel basket. Lassie was a companion and babysitter for us as children and an extra "farm hand" to my dad. My older brother shared cookies and crackers with her; and, in turn, Lassie shared a case of worm infestation with him, much to the dismay of my mother!
After Gene and I were married, we always had at least one four-legged companion. Our 120-pound male St. Bernard, Monk, acted as a walking trainer for our son, Brad. Monk would rest on the floor, wait until Brad got a good hold on his hair coat, and slowly stand up, pulling Brad to a standing position. Monk gently walked forward with Brad still hanging on for dear life. I feel this gentle giant is the reason Brad walked when he was just seven months old!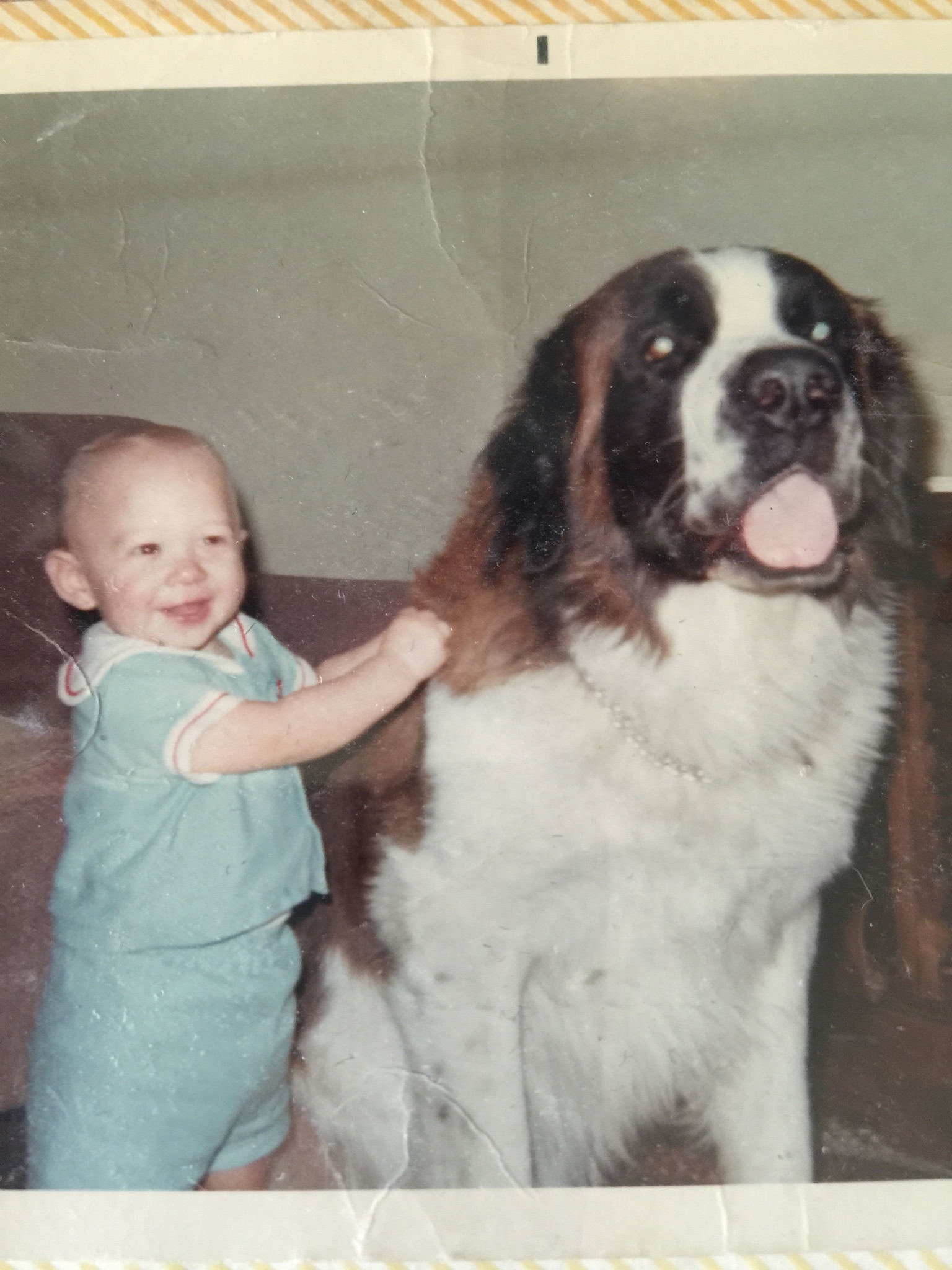 Our dogs have provided the children first-hand lessons in conception, birth, animal care and death. As young kids, Brad and Becky sat with a big bowl of popcorn intently watching our Samantha in her whelping box. Becky took schnauzer puppies to kindergarten show and tell! It was heartwarming to watch some of our puppies growing up in homes of dear friends.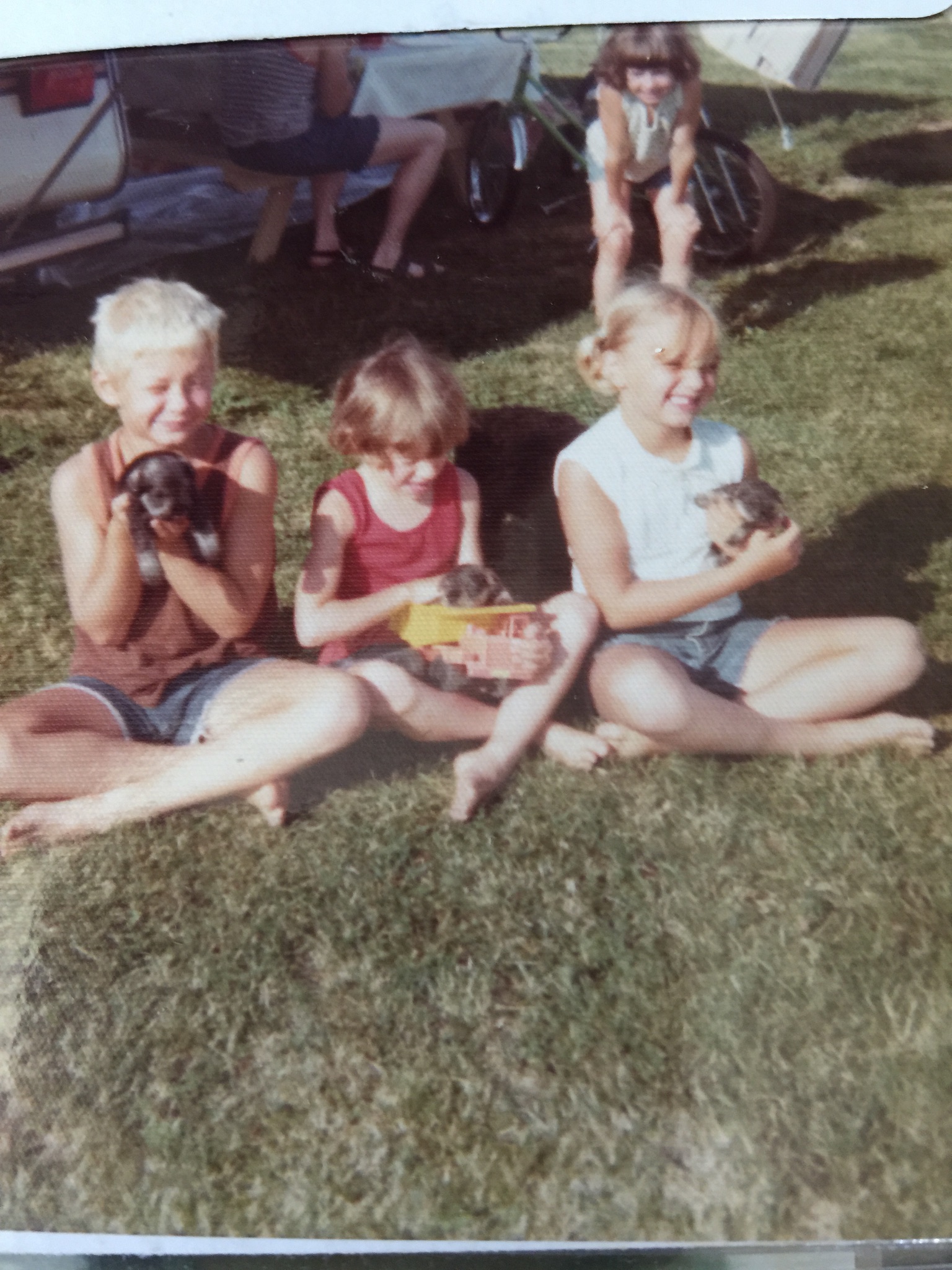 Rescue dogs and pure-bred dogs have all been loved unconditionally in our home. As a family, we have had fifty-two foster children. Our four-legged kids played a great part in the lives of some of these unfortunate two-legged kids, showing acceptance and love to all of them.
The Ericson family, with ages from two to ninety-one, is a five-generation family of animal lovers. We consider the four-legged members as a true part of our pack! Our great-granddaughter, Addison, could say Tuck's name before she could say Grandma or Papa! As the wife of a farmer, my mom considered the proper place for an animal to be outside of the house. Mom has lived in our home for over four years, and now the dogs have become very close to her, even cuddling on the bed or taking a nap on a lap!
Tuck
Our almost sixteen-year old soft-coated wheaten terrier, Ch. Acacia's Friar Tuck, acts as a guardian to all youngsters at our home. Tuck places his body at the doorway of the bedroom where a baby or child sleeps, keeping watch. Tuck has been protector to all family members. Several years ago, he thwarted a burglary very early on a September Sunday morning, flying through our doggy door, making sounds that we had never heard come out of his mouth before. Apparently, the prospective intruder left our yard a lot faster than he came in---there is a permanent v-shaped dent in the top rail of our cyclone fence! It is difficult to watch poor old Tuck with failing health, but we will forever be thankful for the way he has touched our lives!
Ollie
Ollie of Wheaten Acres, our two-year old Miniature Schnauzer baby girl, has added joy and hilarity to our household! Ollie enjoys life and is like a two-year old human child---she scatters her toys all over the house! At the mention of the word "go," Ollie stands at the front door ready to be a part of any adventure! Ollie now acts as a companion and nursemaid to aging Tuck, barking and nudging him toward the doggy door or away from the trash.
Outdoor activities have been an important part of our lives. We, as a family of humans and pets, love to pull our travel trailer to unknown parts around our great country. At home, a big garden and fruit trees allow our family access to fresh produce. Throughout our married life, several of our four-legged kids have helped themselves to garden produce. We could tell when wheaten, Edyth Ann, had been helping herself to blackberries because she was white with big purple spots! Schnauzer, Tinkerbell, had a love of cherry tomatoes.
The leader of our family pack, Gene, spends three days per week at Fontenelle Forest. Being semi-retired allows him a little more time at home. There is always a "honey-do" list for Gene, and the dogs are very willing to assist in any way possible! I have been retired from Student Health Services at UNO for six years now and totally enjoy spending my days at home with Mom and the dogs!
Living at Wheaten Acres, our property on the far western edge of Douglas County, has provided us with access to the city but the freedoms of living in the country. We fenced two acres directly behind our home so the dogs can have room to run. At the back corner of our property is Wheaten Acres pet cemetery for our departed pets. Sometime far in the future, someone may stumble upon this cemetery and think that they have found some kind of archaeological find---dog bones!
As far as the Gentle Doctor team, we are a part of the team as recipients of their knowledge and genuine caring attitude. With the leadership of the professionals at Gentle Doctor, we feel that our four-legged kids are getting the best care possible. Dr. Shawn Finch is a much-respected friend of ours and doctor to our pups. Stacey Bashara (daughter of Dr. Bashara) was a sixth-grade classmate of our daughter, Becky, so this was the first we had heard of the Bashara name.