Meet our client Trisha Clary and her wonderful dogs!
From Dr. Miranda Thomassen:
I have known Trisha and her 4-legged kids for about five years. Her Boston Terriers Rigley and Roscoe will always hold a special place in my heart -- two of the sweetest Bostons I've ever cared for, loved by their mama so much, and had to travel to the Rainbow Bridge much too young. Two other black/white dogs quickly have filled Trisha's heart, as well as the hearts of entire staff at Gentle Doctor. Blaise and Quinn are quite the dynamic duo! We all look forward to continuing to care for these silly boys for years to come!
From Trisha Clary as told to Dr. Shawn Finch:
Tell us more about the pets you have now and the pets you have had in the past.
Roscoe (2003-2011) was my very first dog. He was a Boston Terrier and the best first dog I could ask for. He was so smart, sweet and friendly. He loved playing and jumping! But I always described him as dapper. True to the Boston Terrier name, he was an American Gentleman. He loved sleeping under the covers no matter how hot it was.
Rigley (2005-2011) was my second Boston Terrier who I adopted through Mid-America Boston Terrier Rescue. He was a super cuddler and a clown. He had a rough first six months of his life and lost his left eye, and his jaw had been broken so his tongue hung out an extra long amount...which only made him more adorable. He loved playing with big balls in the back yard and would push them up high in the air and bounce them off his snout.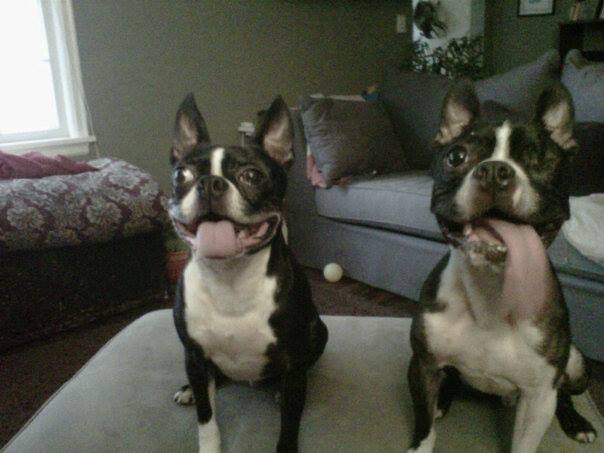 Roe and Rigs
Unfortunately I lost both Roscoe and Rigley too young from cancer and only a few weeks apart from one another.
Blaise (2011-present) I adopted in September 2011 after losing Roscoe and Rigley. He's 50% cocker spaniel, 25% beagle and 25% silken terrier (I had him DNA tested). I named him Blaise after Saint Blaise the healer. I wasn't sure I was ready to adopt, but he was a stray from the 2011 floods at Hearts United for Animals, and after I picked him up he just clung on to me…I couldn't let him go. He's so kind and sweet, but very nervous of other people and very protective of me. We've come a long way over the last four years, and he is better around strangers. He's the most gentle dog I have ever known once he knows someone.
Quinn (2011-present) I adopted from Nebraska Humane Society. I went to meet another dog, but Quinn was just standing at the front of the kennel demanding to be seen, and it was love at first sight. I don't know for sure what breeds he is…part corgi and maybe some kind of pitbull or Staffordshire terrier. He was a run away and still has the urge to run so I have to always make sure he does not get out of the yard/house. I believe when he has gotten out, he was singing "Born Free" in his head, and he ran as fast as he could! We've worked hard on the stay command and have not had any recent escape attempts. He's a snuggle bug and loves to play ALL-THE-TIME! He also always has to have something to chew on! Don't let his four inch legs fool you, he's a jumper…I have a chipped tooth to prove it.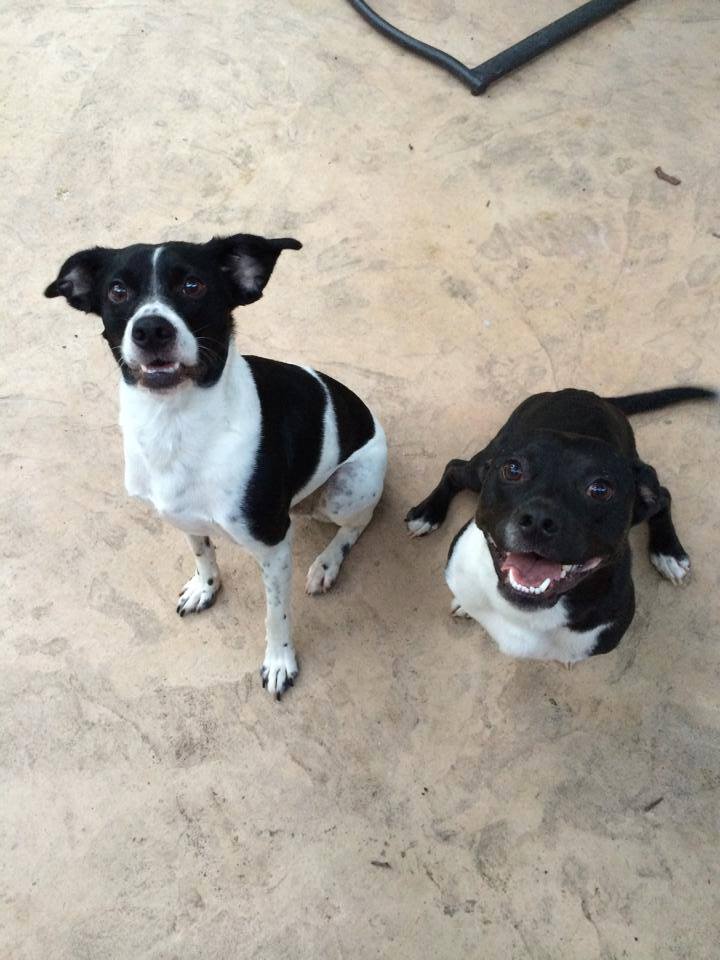 Blaise and Quinn
Tell us about when you first met the Gentle Doctor team or a story about the team others may not know.
I came to Gentle Doctor at the recommendation of a friend when Rigley needed knee surgery. He had stopped using one of his back legs totally due to a luxating patella.
I knew instantly when Dr. Pete Bashara got on the floor to meet Rigley that this would be my new permanent vet for both Roscoe and Rigley. All my dogs have loved going there, which I think is a major sign of a great vet!
In 2010 when Roscoe was diagnosed with tonsil cancer, at the young age of seven, I was so grateful for how kind and helpful everyone was in helping me understand the options available for Roscoe's treatment. He was given a prognosis of three or four months, but I fortunately had almost twelve more months with him.
In July 2011, Rigley was diagnosed with stomach cancer that was very advanced. I lost him several weeks later. It was heart breaking because his was not even six years old, and he had so much energy and life that was just zapped from him.
A couple of weeks later Roscoe lost his battle with cancer (I believe in part he too was heartbroken from the loss of Rigley). I don't know if I could have made it through that time without Gentle Doctor and Dr. Thomassen. They were so kind, and helped to make their passings so peaceful.
What have you learned about pets that you did not know as a kid or before you had your own pets?
Dogs get into the grossest stuff!!! They eat everything they are not supposed to (poopsicles, ewe!), roll in anything stinky, and amazingly enough have caught more wildlife in my backyard then I ever imagined. However, I can't imagine my life without them, but I could def do without the gross parts!
Do you have wisdom about any medical conditions that you could share with someone who is perhaps just starting to walk their pet through a similar situation?
It's good to know what over the counter meds are safe for dogs (with direction of Gentle Doctor of course). Benedryl and Claritin have been life savers for Blaise's allergies!
Do you have a favorite breed or type of pet?
A piece of my heart will always be with Boston Terriers, but I love a mutt. Although unplanned, I think I have a soft spot for black and white dogs as that's all I've ever owned.
Is their a shelter or rescue group or other pet related group that is dear to you that you would like us to help spread the word about?
I'm the treasurer for the Omaha Dog Park Advocates.
Also, I think Hearts United for Animals, Nebraska Humane Society and Mid-America Boston Terrier Rescue do great things for dogs!