Hannah Miller, Receptionist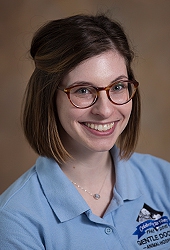 Hannah's first job working with animals was at the Kearney Area Animal Shelter in Kearney, NE. She has been at Gentle Doctor Animal Hospitals since 2014. She only has one pet right now- cat named Charlie. She would love to have more but unfortunately Charlie is a diva and won't allow anyone else to steal her spotlight.
Hannah love to travel and go on new adventures; some of my favorites have been white water rafting in Colorado, zip lining in Las Vegas, kayaking and swimming with dolphins in the Bahamas, and hopefully more to come!